---
---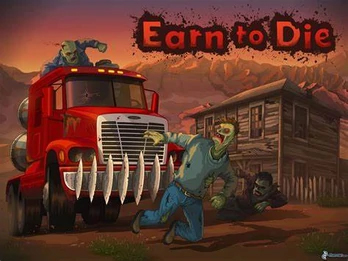 Those of you who enjoy survival games will definitely love Earn To Die. The game has three different sequels, the storyline starts from the very first release. You play as the main character and your number one objective is to survive and escape, in order to achieve this objective you have a vehicle. Game is all about upgrading your vehicle and buying new ones, the more gadget you add to your vehicle the further you can travel, you can also buy more fuel and increase your travel length.
Keep in mind that you can use guns in order to clear the path in front of your vehicle.
How To Play Game?
At first, try to travel as far as it is a possible couple of times, you will earn cash (more distance = more cash), after that visit garage and buy more fuel, repeat first step couple of times and with additional money buy a different gadget or upgrade your engine and other car parts. Your goal is to escape a zone that is full of zombies and reach shelter.
Controls:

↑ Up key for acceleration.
← → Left & Right keys for tilt in different directions.

Up arrow key is for acceleration.
The down arrow key is for the brake.
The Left and right arrow keys are for tilting in different directions.
Rocket engine (or booster) can be triggered with a help of the Z button.
Story Mode:
Your main objective is to escape the infected areas, survive a zombie invasion, escape the area with a help of your vehicle and reach shelter.
You can play this game on your device as well:
A more detailed look into the game(second guide)
Zombie games were always popular, but among popular games are also outstanding ones that are very popular across the globe and millions of people play them on daily basis.
Today I want to present you one of such games – Earn to Die. So the main idea of the game is to survive a zombie apocalypse and in order to do it, you will have to get some really good vehicles, but let's talk about it below in detail.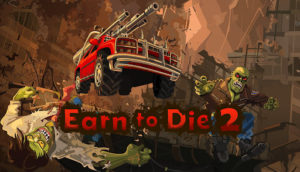 Tips and tricks:
Like I have said before, in order to survive in this game, you will have to cover a lot of distances, you will have to avoid a lot of obstacles and you will have to destroy zombies that are all over the place. In order to do it, you will need vehicle, really strong vehicle, with a good engine, with guns, rocket booster, etc. This is exactly where the entertaining part of the game starts, you see the game has a garage option in it, where you can buy different vehicles, you can buy different upgrades, cool gadgets, machine guns, rocket engines, etc. The game is all about upgrades and other features.
The game also has a money-earning option, the more distance you cover the more money you can earn and more money, which automatically means that you have a possibility to either purchase better vehicles or add new cool gadgets to your existing vehicle.
The game has tons of different options and it is very interesting and entertaining.
Game modes:
There is the main mode of the game (the one with the main storyline) and after finishing this main mode successfully you can continue to play in challenging mode.
The game also has a saving option as well, it allows you to save your game progress and continue from the same spot later on.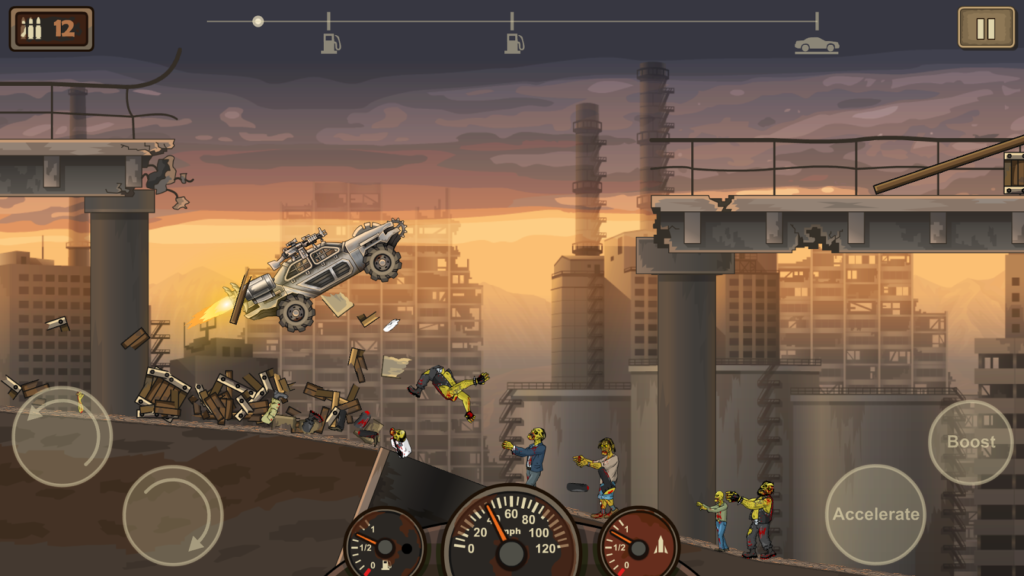 Story:
Your main character is trapped in the infected area and is completely surrounded by zombies, he is trying to escape this dangerous place and reach a safe harbor, a place that is clean from the zombie virus. In order to achieve this, he has to overcome all the obstacles and upgrade his vehicle to reach an escape point. You can earn money, you can upgrade your car, buy more fuel, etc. Do your best and complete your mission, survive no matter what!
Final word:
Well, that is all that I can tell you about this awesome zombie game, it is important to note that the game has other parts as well and it is important to note that these parts are also related to the main storyline of the game. We have all versions on our blog and you can fully enjoy the game for free here.
Watch following Walkthrough for more details:
---